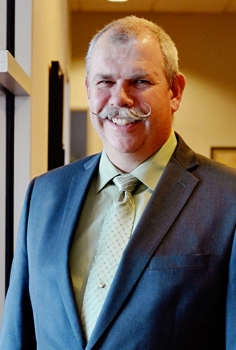 Steven S. Scholl
Shareholder
Dixon • Scholl • Carrillo • P.A.
Contact Info.
(505) 244-3890
Education and Honors
New Mexico State University Bachelor of Science with Honors- Police Science, May 1980
University Of New Mexico School of Law Juris Doctor, May 1989
Member of 1989 National Mock Trial Team which won Western Regional Competition and competed at National Competition at Dallas, Texas.
Recipient of the Lewis Sutin Award for Excellence in Trial Advocacy Skills during law school.
Received Am Jur Award for top grade in Evidence/Trial Practice.
Legal Experience
January 1, 2000 to present, Shareholder and Director Dixon Scholl Carrillo PA, Albuquerque, N.M.
Area of practice is civil litigation, with over 67 cases tried to verdict or decision in state and federal courts. Practice is focused on prosecution and defense of professional liability claims; construction defect and delay claims; personal injury claims; employment and labor claims. Prosecution of medical and pharmacy malpractice and other professional liability claims, as well as civil rights claims. Prosecution and defense of claims in real estate, contract and other commercial litigation.
June 1994 – December 1999, Shareholder and Director, Sharp, Jarmie, Dixon Scholl Carrillo PA, Albuquerque, N.M.
May 1989 – June 1994, Associate Attorney, Hatch, Allen & Shepherd, P.A., Albuquerque, N.M.
Other Professional Experience
August 1980 – August 1986 | Corporal of Police | Police Officer | Dallas Police Department, Dallas, Texas
Joined the Dallas Police Department in August, 1980. Following graduation in Academy Class 164, was assigned to the Patrol Bureau, Northwest Division. Served as a Field Training officer supervising and training new officers following their graduation from the police academy. Initiated and practiced "walk and talk" and "community based" patrol techniques which became department policy.
Transferred to Tactical Section, Special Operations Division as a sniper on the SWAT team. Served as assistant squad leader of SWAT entry team and Dignitary Protection Unit. Assignments included inner-perimeter protection of Vice-President and Mrs. George Bush during the 1984 Republican National Convention, and on numerous visits to Dallas area during 1985 and 1986; President and Mrs. Reagan; H.R.H. Charles, Prince of Wales; and, Mark Thatcher, son of Prime Minister Margaret Thatcher, following the bombing of Tripoli in 1985. Drove lead car in Presidential motorcades. Performed undercover/decoy assignments in anti-robbery details.
Trial Experience in State and Federal District Courts, as well as successful arguments on appeal before the New Mexico Supreme Court and Court of Appeals, and 10th Circuit Court of Appeals both affirming and reversing trial court decisions.
Faculty member, National Institute for Trial Advocacy (NITA) Southwest Regional trial and deposition courses, Albuquerque, New Mexico 1993 to present; and, Pacific Regional trial and deposition courses, San Francisco, California, 2008 to present.
Adjunct Professor of Law at University of New Mexico School of Law: Coach: 1992- to present National Mock Trial Teams, Coordinator of Regional Mock Trial Competition 1999-2002.
Evidence Trial Practice Sections: 2001 to present.
Taking and Defending Depositions; 2011 to present.
Associated with New Mexico Law Related Education as a panel judge for State High School Mock Trial Competition. Participant in "Lawyers with Class" program lecturing on law related topics in public schools. Coached Valley High School's 1991-1992 Mock Trial Team. Invited to attend Center for Law Related Education Summer Institute at Wake Forest University, July, 1993, as New Mexico Attorney Representative.
Professional Licensing & Associations
State Bar of New Mexico (admitted 1989)
Federal Bar of New Mexico (admitted 1989)
Federal Bar of Arizona (admitted 1998 inactive)
United States Court of Appeals for the Tenth Circuit (admitted 1990)
Member, New Mexico Bar Association
Member, Albuquerque Bar Association
Professional Lectures and Training
Presented CLE: How to Successfully Make and Manage Objections at Trial; National Business Institute; Albuquerque, New Mexico, October 25, 2000.
Presented CLE: Evidence-the Hearsay Rule and Evidence Management in Complex Litigation; Albuquerque Bar Association; October 5, 1993.
Presented lecture: Protecting Your Rights Under the New Mexico Mechanic's and Materialman's Lien Statute and the Stop Notice Act, October 24, 1991.
Presented lecture: Representation of Physicians Before the New Mexico Medical Review Commission A Mock Panel Presentation, Physicians/Insureds Loss Control Annual Seminar, New Mexico Physicians Mutual Insurance Company, November, 1991, November, 1992.
Presented lecture: Risk Management in Professional Liability Claims; SW Institute of American Institute of Architects, AlA/Victor O. Schinnerer & Company and CNA Insurance Companies, August 1992; August 1993.
Presented lecture: Confidentiality of Medical Records in New Mexico,September 16, 1992; September 24, 1993, August 25, 1994, January 26,1999, January 28, 2000, March 22, 2001, April 2002, October, 2007.
Presented lecture: Confidentiality of Mental Health Records in New Mexico, August 26, 1994, January 29. 2000; March 23, 2001.
Presented lecture: The Anatomy of a Title Insurance Policy, March 13, 1993.
Presented lecture: The Anatomy of a Title Insurance Lawsuit, March 1994.
Faculty member: National Institute for Trial Advocacy Southwest Regional Training, 1993-present; and, Pacific Regional Training, 2008 to present.
Conduct regular risk management loss prevention seminars for employees and managers for nationally based clients, 1994-2007.
Reported Cases
Gocolay v. R.T.C., 968 F.2d 1017 (loth Cir. 1992) (Reversing District Court's dismissal of client's case as discovery sanction)
P.S. G. v. AIGF VII et. al, 115 N.M. 579, 855 P.2d 1043 (l993) (Affirming in part; reversing in part, Trial Court's grant of summary judgment in favor of client)
Coates &Duran v. Wal-Mart Stores, Inc. 127 N.M. 47, 976 P.2d 999 (1999) (Affirming jury verdict in sexual harassment case)
Ward v. Presbyterian Health Care Systems, 72 F.Supp.2d 1285 (D.N.M. 1999)(Granting Motion to Dismiss)
Community Activities
Participant, Lawyers with Class
Member, New Mexico Medical Review Commission
Board Member & Vice President of Booster Clubs for nationally ranked El Dorado High School Girls Soccer Team and Baseball Team, 1998-1999.
Board Member, manager, coach and chief umpire for various divisions, Roadrunner Little League, 1989-1997.
Personal
Married, July, 1979 (Chris Menefee)
Two children (Stefanie, 1981, Andy, 1983)
One granddaughter (Ellen, 2007); and, grandson (Jacob, 2009)
Interests: travel, boating, hunting, mountain biking, hiking, photography