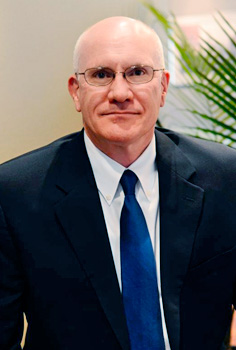 Dennis W. Hill
Shareholder
Dixon • Scholl • Carrillo • P.A.
Contact Info.
(505) 244-3890
Litigation practice focused on the defense of professional liability claims. Handles cases involving real estate brokers, architects, engineers and attorneys in both litigation and licensing matters before administrative boards. Experienced with foreclosures and in the purchase and sale of bank owned property.
Education and Honors
University of Notre Dame, BBA, Business Management 1985
Troy State University, MS, International Relations 1992
University of New Mexico, J. D. 2000, Cum Laude
Legal Experience
February 1, 2020 to present, Shareholder and Director Dixon•Scholl•Carrillo•P.A., Albuquerque, N.M.
July 2007 to present, Attorney, Dixon Scholl Carrillo PA, Albuquerque, N.M. Represent Real Estate Brokers, Lawyers, Contractors, Architects and Engineers in various professional malpractice claims. Represent real estate brokers at regulatory board license revocation hearings. Represent accountants and architects regarding compliance with subpoena's to produce documents.
2001- 2007, Associate, Hatch, Allen & Shepherd, P.A., Albuquerque, N.M. Represented – Regional Bank in Foreclosure matters, Real Estate Brokers in professional negligence claims, employers in worker's compensation claims and various corporate and individual defendants in personal injury cases including slip and fall and automobile accidents.
Oct 2000 to April 2001 with Kelly, Rammelkamp & Muhlenweg, PA. General Business law such as drafting incorporation documents, shareholder meeting minutes. Also drafted probate documents.
Summer Clerkship, Summer 1999, United States Attorney's Office, New Mexico. Worked in White Collar Crime Division researching and drafting legal memoranda. Assisted with motion practice in a criminal tax evasion case.
Other Professional Experience
Eight (8) years as a commissioned officer United States Air Force.
Served as Maintenance officer in California and Germany.
Three (3) years as an administrative assistant for Department of Veterans Affairs, Compensation and Pension Division of the VA Hospital in Albuquerque, NM
Professional Licensing
State Bar of New Mexico, admitted 2000
Federal Bar of New Mexico, admitted 2000